History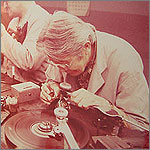 In 1936, with only a fourth grade education, George Hideo Sasaki first opened a jewelry shop while working at the Oahu Railway Company. In 1947, he traveled to Kansas City and enrolled in watch making school, seeking to broaden his knowledge and expertise.
George Sasaki Jewelers was first located in the Boston Building, and opened in 1955. As business steadily increased through a reputation of honesty and integrity spread mainly through word of mouth, George made his first trip to New York in 1958 to purchase diamonds and other precious stones, the first retailer in the state of Hawaii to directly import jewelry from the Mainland.
Shortly after his graduation with an AB in Architecture from the University of California at Berkeley in 1972, George's son Hans began work for his father. In 1977, Hans completed work at the prestigious Gemological Institute of America and received his degree as a Graduate Gemologist.
Sasaki Jewelers moved into the Pioneer Plaza in 1980, and has since provided customers with an unsurpassed level of quality, value and service that is unmatched.